The Compact Rotary Pump – The Piston Pump Alternative for Small Construction Dewatering
Construction dewatering is not a "one-size fits all" scenario. To get the most bang for the buck, a low horsepower wellpoint pump may be all that is needed.
Since its release in March 2020, the Compact Rotoflo™ RWP006 Rotary Wellpoint Dewatering Pump has become a major rival to the old Piston Pump. The "Compact 6′"s smaller yet lighter design, high performance, quiet pack, and low fuel consumption makes it extremely versatile. It has 16 less HP from the Standard 6, making it perfect for small wellpoint systems and shorter sock runs where using larger units could be considered "overkill."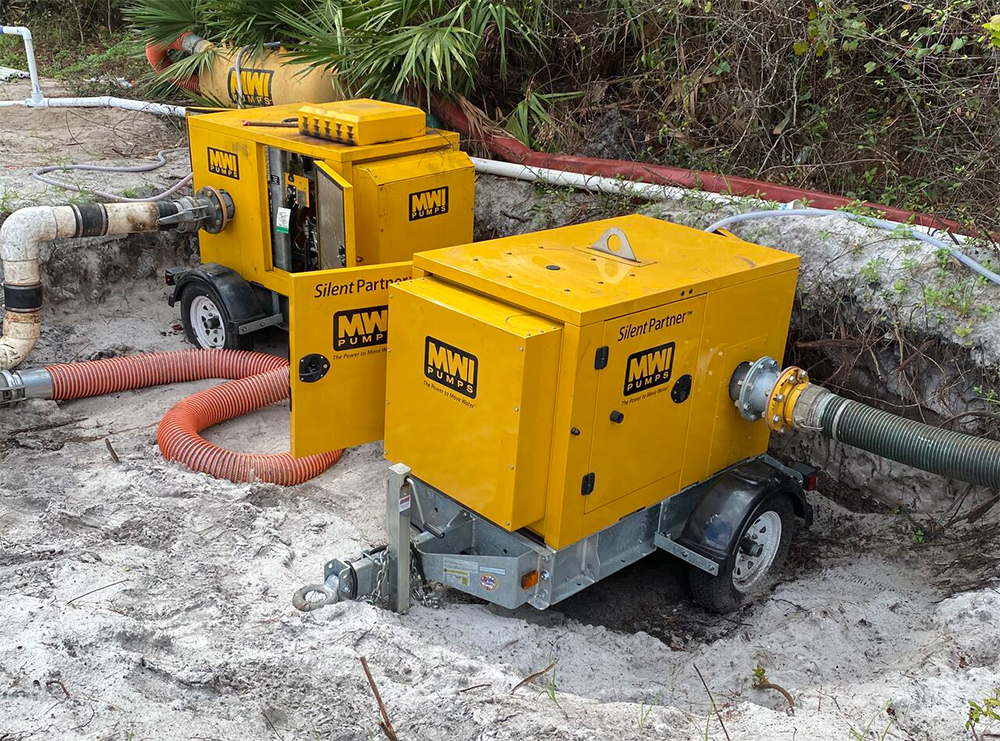 Old Technology vs. High-Efficiency Agile Pumps
Piston pump technology predates the more efficient and newer rotary wellpoint pumps. The Compact Rotoflo™ is a reliable rotary lobe, self-priming, valve-less positive-displacement pump. It is designed especially for construction dewatering and easily pumps slurries and brackish water. The advantages, matched with the horsepower required for smaller jobs, provide significant benefits in long-term ownership, maintenance, and performance. Additionally, the ability of the Compact Rotoflo™ to be moved around in tight spaces combined with a standard D.O.T. package for easy transportation makes this pump highly agile, and a step above the rest.
Here are 7 reasons why the Compact Rotoflo™  by MWI Pumps the best choice for small construction dewatering:
Smaller, Lighter Design. The Compact Rotoflo™ is more than 30% smaller and lighter than other piston wellpoint pumps on the market. Simply put, it fits where others cannot. This makes it perfect for tough water pumping challenges in small residential neighborhoods, and tight business districts where space is minimal.
High Performance (425 GPM & 208' TDH). The pump's simple design eliminates the need for complicated vacuum priming, floats, and air/water separation systems, which are known to be unreliable.
Low Maintenance. Downtime is substantially reduced thanks to the maintenance-on-site design. Each pump comes with a quick-release cover that can be removed with conventional hand tools. This provides easy access to the inner parts without having to remove critical components. Its 100% bolt-together design allows multiple units to be easily combined for maximum output.
Lower Cost. With inexpensive spare parts, low maintenance, and rugged components, this pump costs less than comparable systems and can be set up and running in a fraction of the time.
Quiet Pack Standard. This feature is ideal for residential or sensitive areas where sound must be kept to a minimum. The Compact Rotoflo™ is lined with 16-guage steel and sound insulation to achieve 67dBA at 7M / 23', giving it a clear advantage over the piston pump.
Low Fuel Consumption. With a fuel capacity of 28 gallons, the Compact Rotoflo™ has the ability to run up to five days, depending on the load. This low fuel consumption is a big advantage over inefficient piston pumps. Whether you are using a wellpoint or sock system, the highly-efficient air/water handling capabilities uses less fuel while providing less hassles. This pump comes standard with a Yanmar L100W Tier 4 Final engine. Users can customize the pump with a choice of a diesel, electric, or hydraulically-driven diesel engine and optional variable frequency drive.
Additional Options and Benefits
While these are the primary advantages of the Compact Rotoflo™ RWP006 Rotary Wellpoint Dewatering Pump, it also offers skid or trailer-mounted options. Additional features include dry-running mechanical seals, a positive displacement tri-lobe spiral rotor and the entire pump is manufactured in MWI's facility in the USA.
Listen to how our customers are benefiting from the Compact Rotoflo™ Pump by MWI: