Non-Electrical Potable Water Pump
The SolarPedalFlo™ is a complete rural village water supply and treatment unit that provides SAFE water on a continuous basis. These non-electric water pumps are operated by solar panels during the day and pedals during the night or cloud cover. No electricity or engines are required to operate this unit.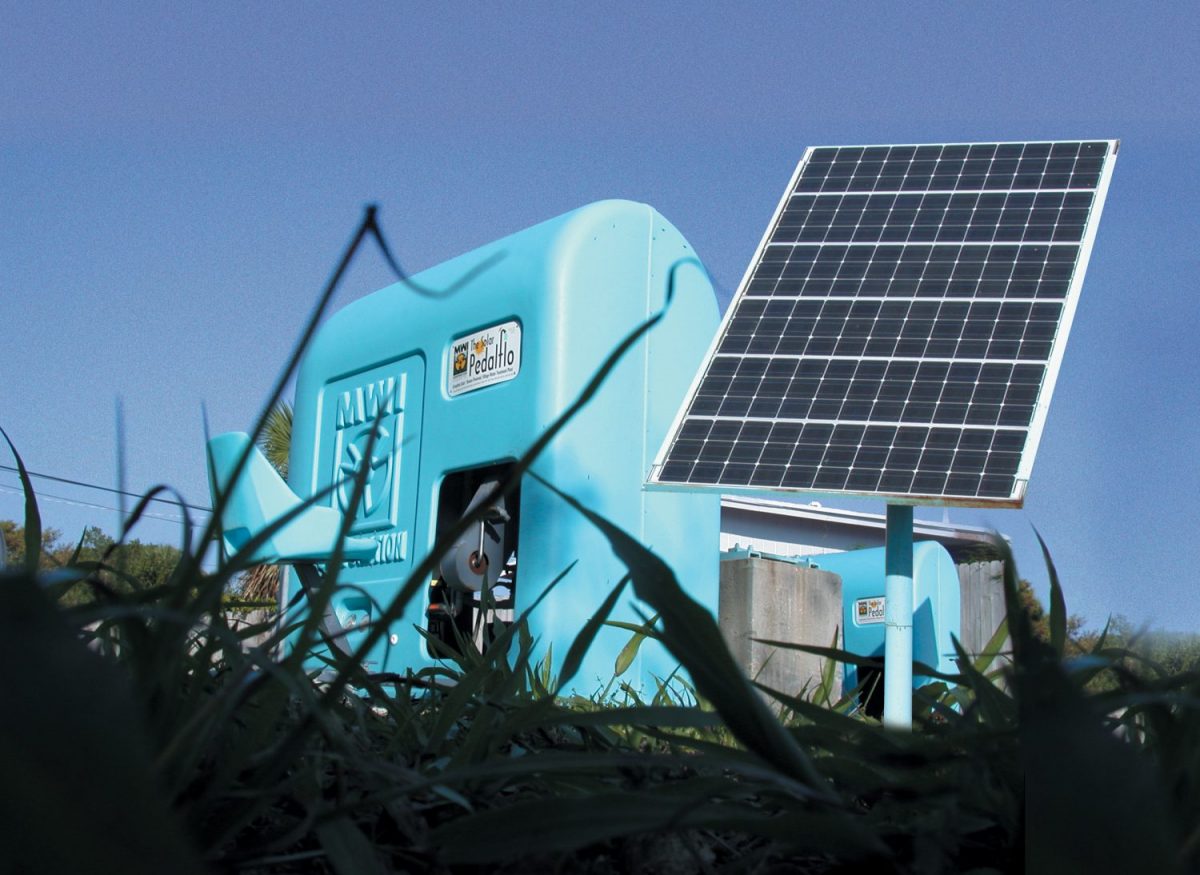 This non-electric water pump is a patented product of MWI and is used around the world in communities without electricity. The SolarPedalFlo™ uses a minimum of 350 watts of solar power to provide 12,000 liters of filtered (down to 1 micron) chlorinated and pressurized water daily. The water that is produced is free of waterborne and airborne diseases and is protected in an overhead tank. Safe water, such as that provided by SolarPedalFlo™, is proven to result in healthier babies, significantly lower infant mortality rates, and when used in combination with simple hygienic practices, it can dramatically reduce incidences of diarrhea and cholera.
Due to its unique linear current booster, the SolarPedalFlo™ can even operate in low-light conditions, such as the early morning and early evening hours. When there is very low to no light, this pump can be powered by the body's most powerful muscles—the legs—to rotate pedals connected to the Borehole Reciprocating Piston Pump. Pedaling is always smooth and uniform, so even young children can pedal with ease. The pump's design also uses a flywheel for consistent power conversion. In addition, this pump has been shown to outperform the flow of four combined handpumps when it comes to providing safe drinking water to entire rural communities.
Compared to most hand pumps that become difficult to use at water depths of more than 45M, the SolarPedalFlo™ can effectively operate at water depths down to 55M. This non-electric water pump is now in operation in twelve African countries and has freed women and children from the arduous daily chore of trekking long distances to fetch contaminated water. This pump thereby allows women to be more productive in their daily tasks and permits children precious time to go to school.
Globally, we work with many countries in Africa to help selected villages in need that need access to SAFE water and we work with UN Sustainable Development Goals and SDG#6 "to provide SAFE water to every citizen by 2030.
FEATURES & BENEFITS
Efficiently pumps over 12,000L of clean water per day using the sun as the primary power source
No electricity & no engines required – solar powered with an option for manual power
Effortless potable water on tap – eliminates need for manual pumping
Includes 85G pressurized, internal water storage tank for use on overcast days / nights
Improves quality of life – improves health and reduces infant mortality by eliminating time-consuming and unclean water collection
Economical choice – 4x more cost efficient than a hand-pump and costs less
Operates at water depths down to 55M – greater than any hand-pump
Rugged, durable & reliable – provides years of service with minimal down-time
Affordable spare parts are readily available
PERFORMANCE CURVES
Rural communities with lack of clean, potable water
Village-level operation and maintenance
Anywhere that needs clean drinking water
Solutions to Common Problems & Application Gallery
Need more information, need to purchase or rent a pump, or need assistance?