Submersible Electric Water Pumps
Customizable Medium-Head, Mixed-Flow & Low-Head, Axial-Flow Propeller Design
Available in sizes from 8 to 60in., heads from 5 to 55ft. and flows from 2,000 to 130,000 GPM, MWI high-volume, submersible electric water pumps are extremely versatile, durable and reliable. Our submersible electric water pumps are offered as medium-head, mixed-flow, and low-head axial-flow propeller designs. These underwater pump units are often used in applications such as storm water drainage, flood control, irrigation, and final effluent pumping.
MWI offers a wide variety of discharge configurations, and every unit can be customized by our in-house professional engineering team to fit your jobsite specifications. MWI also creates retrofit or replacement pumps that fit into other manufacturer's tubes including Flygt, KSB, Ebara and others.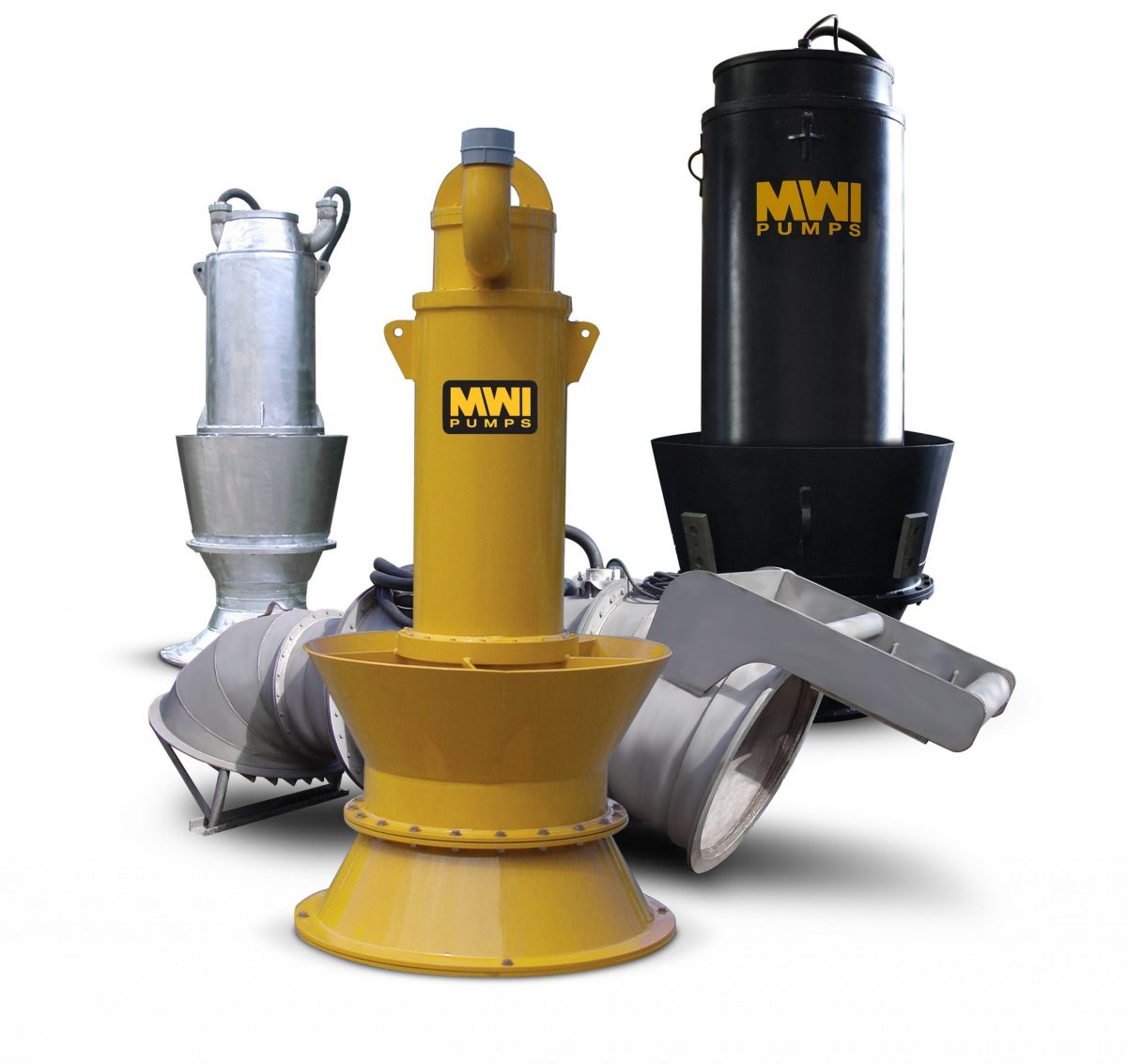 Heads To 55ft. (16.8M) & Flows To 130,000GPM (8.2CMS​)
SEA pumps are built using a cast or fabrication process in various materials including all 316L stainless steel. Cast pumps are mainly installed in vertical configurations inside a discharge can. Fabricated pumps offer added installation configurations due to their lighter weight. All pump parts are manufactured including the intake bell and motor housing.
Both 316L/304 stainless steel and ASTM A242 corrosive resistant " CorTen" Steel are available for pump fabrication. The pump can be installed at any angle or in a horizontal position. Additionally, the pump intake and discharge can be flanged and bolted into existing pipe.
FEATURES & BENEFITS
PERFORMANCE CURVES
CONFIGURATIONS
FEATURES & BENEFITS
Efficient, low profile and reliable – simplified drive train with easy access points for maintenance
Available in sizes ranging from 8 to 60in. in diameter
Stainless steel motor housing comes standard on most models
Cost saving – can reduce costly civil works facility building
Versatile – can be installed at any angle for streamlined municipal pump station setup
Quality and durability – built with premium, tough, and corrosion resistant internal components to keep the pump running efficiently and effectively
Pump lift-out option for easy routine maintenance or replacement
Easy to order and affordable spare parts – non-proprietary bearings and seals
Operating and installation cost saving – pump is custom designed and optimized to fit your application
PERFORMANCE CURVES
CONFIGURATIONS
Stormwater drainage
Wastewater management
Final effluent
Raw water
Sludge
Emergency flood control
Agriculture Irrigation and drainage
Aquaculture
Industrial
Municipal
Any places that require moving large volumes of water
Need more information, need to purchase or rent a pump, or need assistance?