Our extensive inventory of industrial pump rentals includes axial and mixed flow pumps (Hydraflo™), hydraulically driven trash pumps (Duraflo™), rotary wellpoint pumps (Rotoflo™), and self-priming dewatering pumps (Primerite™). We offer our dewatering pump rentals at affordable price points all around the world. Call us at 954-426-1500 to learn more about our rentals or browse the list below. From small to large industrial pump rentals, MWI has a combined rental capacity of over 5 million gallons per minute.
This patented, submersible, hydraulic-driven water pump provides flexibility in applications where large quantities of water must be removed quickly.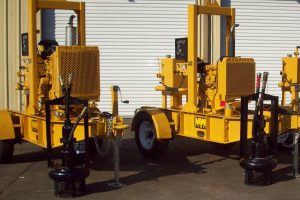 The Duraflo™ industrial pump rental is useful in environments where continuous pumping is needed, such as in mines, sewage bypass operations, and industrial applications.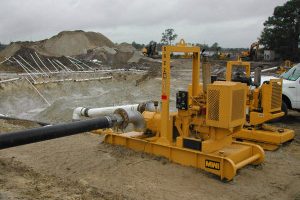 The Rotoflo™ industrial pump rental is a self-priming, valve-less positive displacement pump that's perfect for groundwater and wellpoint dewatering applications.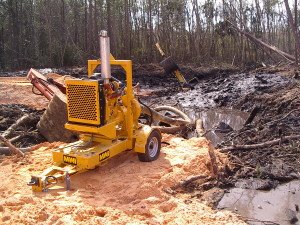 The Primerite™ is an automatic, dry-priming trash pump. This dewatering pump rental is ideal for contractors, dewatering firms, sewage bypass operations, mine or quarry operators, municipalities, and industrial operations.
The Silent Partner™ is a sound attenuation enclosure coupled with a high-performance, automatic-priming, run-dry solution. The Primerite™ pump system is useful wherever quiet operations are required. The Silent Partner™ enclosure can also be used with Hydraflo™, Duraflo™, and Rotoflo™ pumps.
The Double Diaphragm is an incredibly versatile, rugged and portable dewatering pump that can handle slurries, mud, sewage and other thick bodies of water with ease. The Double Diaphragm is available for rent or purchase.
These non-clog, hydraulic-driven, submersible pumps feature a diesel or electric drive unit. These pumps are ideal for drying out construction excavations, quarry dewatering, large sewer bypass operations, general municipal use, and industrial work that requires the handling of large solids as big as 6" and higher head requirements (35-100-ft.).
Our industrial pump rentals are extensively tested and continually refined based on experience and feedback from customers. Due to continual improvement of our products, we reserve the right to change designs and specifications.
Need more information, need to purchase or rent a pump, or need assistance?
Please take a moment to fill out the Rental Contact Form on this webpage to contact MWI Pumps for all your Rental Pump needs. We will be in contact with you as soon as possible. If you aren't sure which product you need, it is still okay to full out the form; just be sure to let us know in your message.