Lineshaft Pumps / Sea Water Pumps
High-Volume Propeller Pump with High-head, Axial-flow & Mixed-flow Impellers & Low-head Axial-flow Impellers
Vertical lineshaft pumps or "sea water pumps" use a long shaft to connect the impeller to the drive. These traditional pumps are typically driven by diesel or electric motors that can be connected using a belt and pulley, gear, or direct coupling. MWI's vertical lineshaft pumps (in the process industry, these pumps are classified under a VS3 designation) are available with higher-head mixed flow impellers and low-head axial flow impellers.
These high-volume axial and mixed flow pumps are useful in flood control, draining, and irrigation applications. Their dimensions depend on installation requirements. MWI offers engineering assistance and custom specs for job sites that are reacquiring a Lineshaft, as this pump can be installed in many ways and configurations. They are available in 8-inch – 144-inch (0.2 m – 3.7 m) diameters with capacities up to 800,000 GPM (50.5 m3/s).
Our axial and mixed flow pumps are used in critical applications where failure is not an option. Made from corrosion-resistant steel, stainless steel, or cast iron, these vertical lineshaft pumps are simple, robust, and extremely dependable.
FEATURES & BENEFITS
PERFORMANCE CURVES
FEATURES & BENEFITS
Simple & reliable one-piece factory-aligned construction with highly efficient hydraulic design
Available in 8″ – 144″ (0.2 M – 3.7 M) diameters with capacities up to 800,000 GPM (50.5 M³/S)
Fully customizable – experienced engineers design units to fit your site needs
Multiple orientations – combines maximum flexibility with smooth and efficient flow via the discharge elbow and multiple segments
Durable, heavy-duty internal parts reduce corrosion and increase lifespan of the unit
Many grades of materials available for construction, including super-duplex stainless steel
Designed to maintain the highest possible hydraulic efficiency*
Easy maintenance – convenient lubrication port and vent plus a unique stepped bearings design allows for quick replacement without full disassembly
*Highest efficiency via the pump bowl and for higher-head applications via the mixed-flow bowl
PERFORMANCE CURVES
Flood control and storm water drainage
Agricultural irrigation
Pump station
Desalination plants and power plants
Large vertical seawater or tidal pumping
Excavation and pit dewatering
Raw water intake
Wastewater pumping and treatment
Transfer pumping
Dry dock pumping
Pool and pond level maintenance
Moving large volumes of water
Solutions to Common Problems & Application Gallery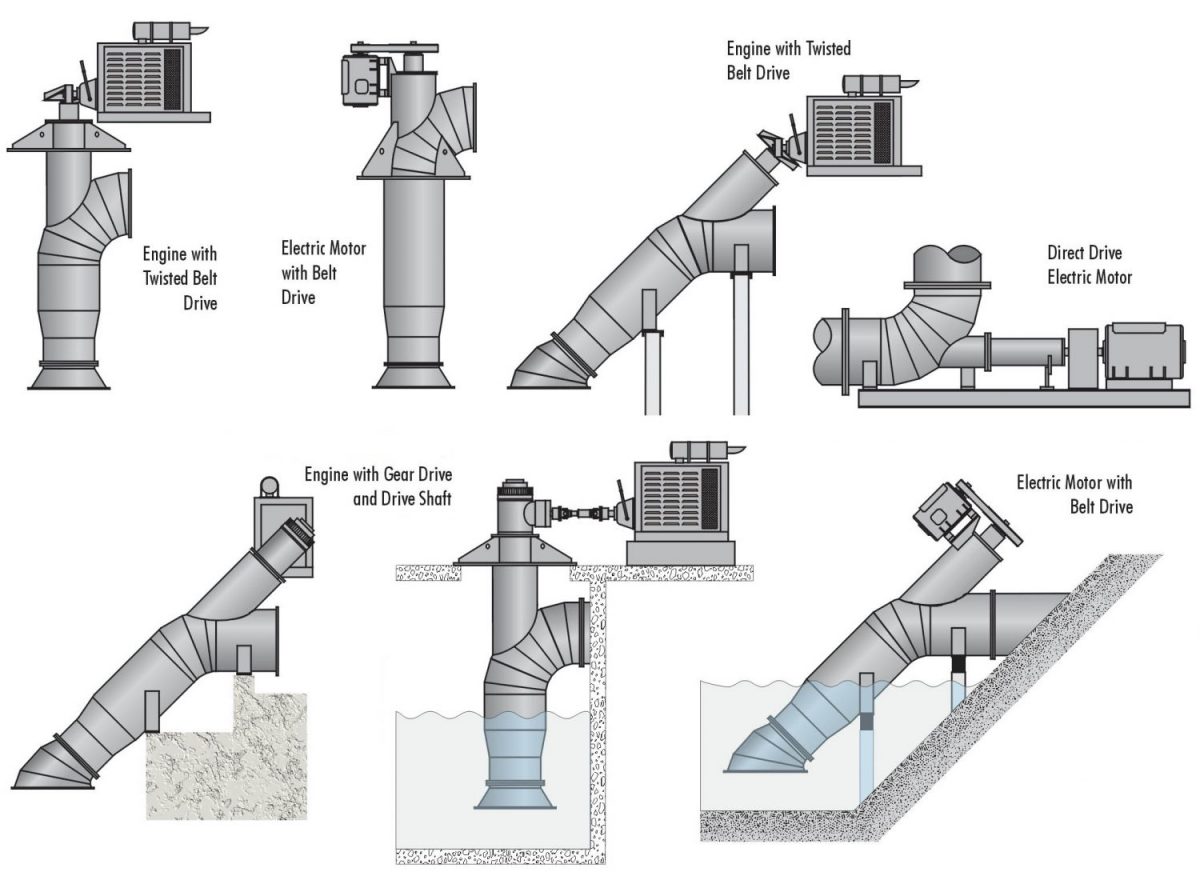 Need more information, need to purchase or rent a pump, or need assistance?