Remote Monitor and Control Solution for Small & Large-Volume Water Pumps
24/7 Remote Monitoring & Control Solution for Small & Large-Volume Water Pumps
MWIConnect™ is a powerful, compact turnkey remote monitoring and control solution for small to large-volume water pump systems. Track your pump system pressure, flow, temperature, levels, vibration, start/stop operations, and location the moment the equipment hits the jobsite. MWI's cloud-based app and drive unit-mounted module provides peace of mind by connecting you with real-time data 24/7. This connection allows you to improve planned maintenance, track location, receive alerts for present or critical conditions, monitor system operation and troubleshoot if needed before sending out a technician. Save time, money, and stress by maximizing Jobsite efficiency while reducing emergency repairs, downtime, and unneeded on-site labor no matter your location.
Available for Purchase or As Part of a Rental Pump Package
MWIConnect™ gives you peace of mind with 24/7 access to monitoring, alerts, reporting, and control abilities worldwide at the touch of a keystroke.
What can you do with MWIConnect™?
Connect to Higher Efficiency with Ease
Remote review of real-time data including pressure, flow, levels, temperature, vibration, start/stop operations, location and more
Respond faster to running condition issues thereby reducing unit wear-and-tear and avoiding costly downtime, shutdowns or failure
Increase performance by analyzing energy consumption
Easily collect and monitor multiple pump's metrics within one unified platform

Planned Maintenance, Faster Pump Service & Less On-site Labor
Eliminate the need for on-site manual inspections saving thousands per week in operating costs
Integrated vibration, pressure and temperature monitoring gives insight into pump performance
Real-time usage data helps you to plan maintenance such as replacing bearings, wear rings, and seals
Alerts allow you to quickly troubleshoot or schedule pump repair technicians if needed
Proactively diagnose equipment to ensure service technician is prepared upon jobsite arrival
What can MWIConnect™ do for you?
Reliable Turnkey Connectivity
Remote system monitoring and control the moment the units go online at the jobsite
Secure Wi-Fi connection and encryption for safe reporting
Alerts can be easily set up and sent to multiple users via SMS and/or email for quick response
Remote module is field programmable and Wi-Fi upgradeable to meet changing site conditions and customer requirements
Continuous monitoring and storing of run-time data even when the pump is out of cell range
All real-time data is fully accessible from any fixed computer or mobile smart device
Protect Property, Improve Lifespan, Safety & Security
Improve pump lifespan with automated alerts to keep you aware of system safety limits and help avoid emergencies
Easily track and analyze pump use/misuse to identify issues with stored run-time history.
Built-in GPS helps you keep track of your pump's location
Geofencing helps prevent against loss, misuse, or theft of equipment with controller disabling functionality
Automatic low water level shut off with float or transducer enabled connection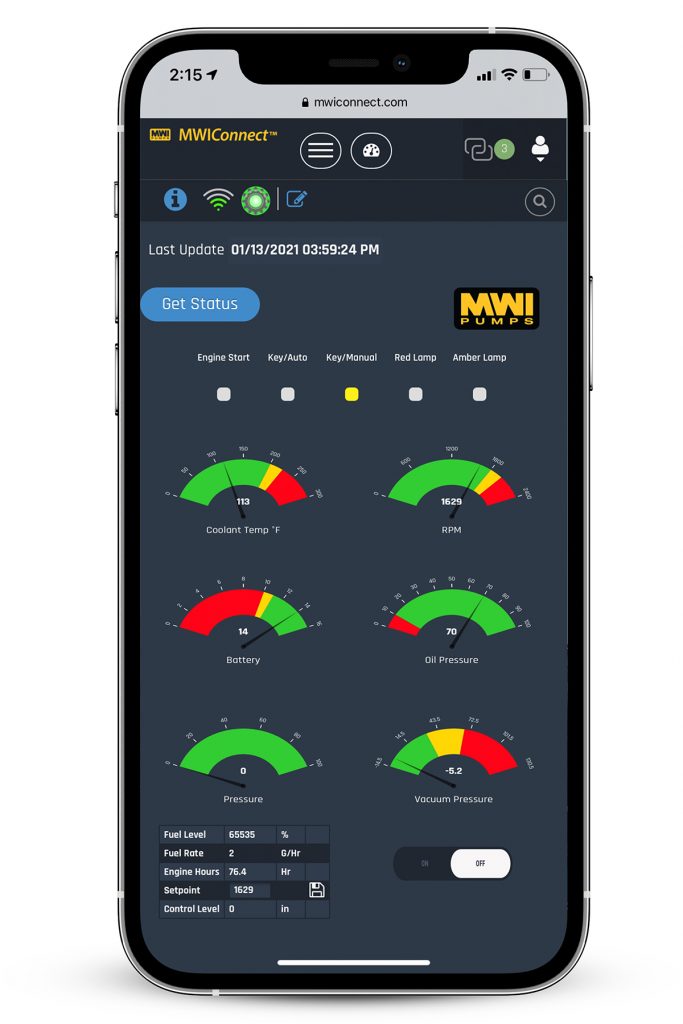 MWICONNECT™ APP & MWICONNECT.COM
IS THIS YOU?
MWICONNECT™ APP & MWICONNECT.COM
The MWIConnect™ data-driven app helps you to monitor, analyze and compare system information in order to maximize performance and be in the know about all your pumps at any time. By providing direct line-of-sight to all your equipment within one easy dashboard and real-time alerts, you can proactively avoid larger system issues by spotting trends early and pinpointing weaknesses that otherwise might have been left unchecked. If equipment needs attention, you'll be notified immediately so you can address the issue and keep your jobsite safe and running smoothly.
With the MWIConnect™ app, you have all the data you need at your fingertips, allowing you to easily monitor your system and make decisions remotely and immediately. MWIConnect™ is your pump safety, security and mobile command center.
IS THIS YOU?
Drive Unit Mounted Module
Cloud-Based App & Website
Sensors
Retrofit Kit
Need more information, need to purchase or rent a pump, or need assistance?