Government and Municipal Services
MWI Pumps works with government and municipal city services to make the purchasing of dewatering, sewer bypass and flood control water pumps and heavy mobile equipment as easy as possible. If you are a participating member of a government or municipality, please contact us to receive considerable discounts on our 4 and 6 inch mobile pump packages. Please note, our value proposition extends beyond our initial offering with additional pump sizes, features and options available upon request.
MWI has been awarded a contract with the Florida Sheriffs Association making it easy for sheriff's offices, city municipalities and other agencies in the states of Florida, Arkansas, Alabama, Georgia, Mississippi, Missouri, North Carolina and Tennessee to receive considerable discounts on our 6 inch mobile pump package through the FSA Cooperative Purchasing Program, contract # FSA20-EQU18.0 specification #274.
Visit the FSA website to learn more about the Cooperative Purchasing and Fleet Management Programs, or contact us for a free consultation on the best pump to suit your needs.
This patented, submersible, hydraulic-driven water pump provides flexibility in applications where large quantities of water must be removed quickly.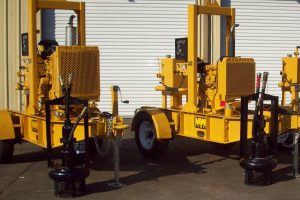 The DuraFlo™ industrial pump rental is useful in environments where continuous pumping is needed, such as in mines, sewage bypass operations, and industrial applications.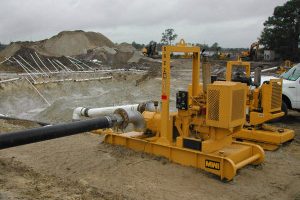 The Rotoflo™ industrial pump rental is a self-priming, valve-less positive displacement pump that's perfect for groundwater and wellpoint dewatering applications.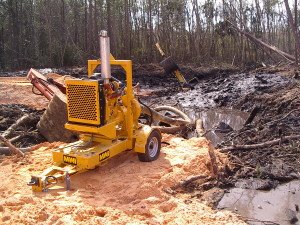 The Primerite™ is an automatic, dry-priming trash pump. This dewatering pump rental is ideal for contractors, dewatering firms, sewage bypass operations, mine or quarry operators, municipalities, and industrial operations.
The Silent Partner™ is a sound attenuation enclosure coupled with a high-performance, automatic-priming, run-dry solution. The Primerite™ pump system is useful wherever quiet operations are required. The Silent Partner™ enclosure can also be used with Hydraflo™, Duraflo™, and Rotoflo™ pumps.
The Double Diaphragm is an incredibly versatile, rugged and portable dewatering pump that can handle slurries, mud, sewage and other thick bodies of water with ease. The Double Diaphragm is available for rent or purchase.
These non-clog, hydraulic-driven, submersible pumps feature a diesel or electric drive unit. These pumps are ideal for drying out construction excavations, quarry dewatering, large sewer bypass operations, general municipal use, and industrial work that requires the handling of large solids as big as 6" and higher head requirements (35-100-ft.).
Need more information, need to purchase or rent a pump, or need assistance?
Please take a moment to fill out the Contact Form for all your pump needs. We will be in contact with you as soon as possible. If you aren't sure which product you need, it is still okay to full out the form; just be sure to let us know in your message.