MWI Pumps brings battle-ready rental pumping solutions to The Utilty Expo
MWI Pumps is excited to reconnect with utility professionals and present our municipal approved, sewer and lift station bypass, flood control and dewatering pump solutions at The Utility Expo 2021.
Attendees will experience advanced, rugged water pumping products, remote monitoring and control capabilities, cost-effective municipal approved pumps along with complete maintenance/repair and rental services at the Moving Water Industries / MWI Pumps Booth A1307 located in the South Wing of the Kentucky Exposition Center from September 28-30th, 2021.
New Construction Dewatering Rental Pumps & Monitoring Services
MWI Pumps, known worldwide for quality water pumping technology – has announced a few new and upgraded pump products that will be featured at The Utility Expo. We encourage everyone to stop by Booth A1307 to check out our battle-ready water pumps including the Compact 6" Rotoflo™ wellpoint construction dewatering pump, the utility / municipal FSA approved, cost-saving Eco 4" Primerite™ and the new MWIConnect™ 24/7 remote monitoring and pump control system.
"After the past year with the pandemic, we are excited to be back as exhibitors at The Utility Expo. This event gives us a face-to-face opportunity to demonstrate MWI Pumps and pumping solutions that are proven to speed productivity, lower costs and increase safety for communities across North America. Furthermore, MWI continues to provide the fastest pump repair and maintenance service response times in the state of Florida to keep the water flowing" says Dana Eller, President, MWI Pumps. "We have several innovations this year that are changing the way the pumping industry is moving water. These solutions stay ahead of demanding construction schedules by increasing productivity and decreasing costly downtime."
Among the new and improved products, MWI will be highlighting the Compact 6" Rotoflo™ wellpoint pumping system that is 30% smaller and lighter than piston pumps, the MWIConnect™ 24/7 remote monitoring and pump control system to increase productivity plus security on the jobsite and the municipal FSA approved Primerite™ CT-series with Eco 4″ pump that is designed to maximize the power of a smaller engine, saving fuel, space and overall costs. Additionally, every pump rental comes with our customer-first approach to scheduled maintenance service and 24/7 emergency repairs to keep you pumping.
New and improved pumps and accessories from MWI include:
Compact 6" Rotoflo™ Wellpoint Dewatering Pump
Complete Compact Small. Light. Tough.
Over 30% smaller and lighter than piston wellpoint pumps – Fits where others can't
High performance – 425 GPM & 208' TDH
Maximized power of smaller engine – Saves fuel, space and overall costs
Quiet pack standard – 67dBA at 7M / 23' for residential or sensitive areas
Low fuel consumption – Run up to 5 days
Complements MWI full-sized 6, 8 and 12" Rotoflo™ pumps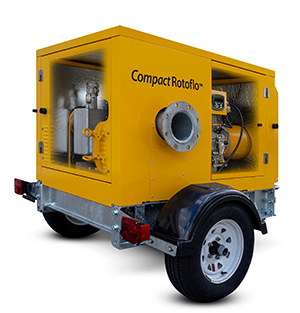 MWIConnect™ 24/7 Remote Monitoring & Control
Track pump system pressure, flow, temperature, levels, vibration, start/stop and location from anywhere
Connects you with real-time data 24/7
Improve planned maintenance, track location, receive alerts for present or critical conditions, monitor system operation and troubleshoot if needed before sending out a technician
Save time, money and stress by maximizing efficiency while reducing emergency repairs, downtime, and unneeded on-site labor
Eco 4" Primerite™ Self-Priming Trash Pump
Municipal and Utility Approved Value & Efficiency – 4" Cost Performance
Substantial ROI – Optimized HP of price/performance
Municipal approved, affordable pricing for pump rental or purchase
Low fuel consumption – Run up to 3 days
Eco 4" flows up to 90' TDH / 1000 GPM with 6″ up to 160′ TDH / 2300 GPM
Easily pumps slurries & brackish water with solids up to 3″
Quickly store and move when and where you need it
Little maintenance required
Visit us at Booth A1307 if you're in town for the show, or call 954-426-1500 for more details on pumps like these and pump rental services.