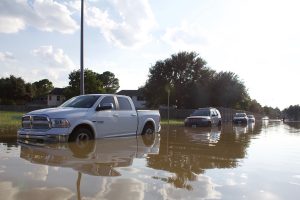 Many areas across the U.S. are at risk of flooding this spring. According to the National Oceanic and Atmospheric Administration, approximately two-thirds of the lower 48 states will have an elevated risk of some form of flooding from now until the start of summer when hurricane season begins.
"The flooding this year could be worse than anything we've seen in recent years, even worse than the historic floods of 1993 and 2011," said Mary Erickson, the deputy director of the National Weather Service, in an interview with the New York Times.
Erickson says the major flooding that's been seen in Iowa, Minnesota, and Nebraska is just a preview of what we can expect for the rest of the spring.
Why is it important to prepare for floodwaters?
About 13 million people could be exposed to major flooding this spring. Edward Clark, the director of NOAA's National Water Center, says this could be a potentially unprecedented flood season. Flooding can happen anywhere and, even if your municipality has never experienced major flooding that doesn't mean it won't in the future. It's best to be prepared. Most of the states east of the Mississippi River and parts of California and Nevada (approximately 200 million people) could see some form of flooding this spring.
How can my municipality control flooding?
The NOAA's annual Spring Outlook projections are more urgent because the basins of the Upper Mississippi and the Red River of the North have been hit with rain and snow this spring that's twice the normal amount. Some cities are prepared for a certain amount of stormwater, but an overabundance needs contingency planning and reinforcements that are not always prepared for.
Fortunately, there are three ways your municipality can control floodwaters to keep them from becoming a major issue:
Create flood plains and overflow areas for rivers.

Floodplains play a big role in flood protection, nature conservation, and water management. They retain and absorb water to shield nearby municipalities from heavy rainfall's effects. Additionally, these areas are necessary if and when flood water mitigation pumping is necessary so that there is a place for the water to go. When you're considering where to place your overflow areas, consider the spots around your municipality that are most likely to flood. It's best to have a plan in place in advance, so take note of where these commonly-flooded areas are and where the floodwaters can be pumped to. Water can be pumped into the sewer system or storm water drain or into a nearby canal.

Keep your sewer system clean.

Sewer systems and storm water drains can clog up with debris, sediment, waste, tree roots, and leaves. Rust and corrosion can make these issues worse. Make sure that you're staying up to date with sewer maintenance and repairs so the system can do its job in times of flooding. The same holds true for all storm swales and drainage canals. Lack of maintenance and upkeep can severely degrade their performance and capacity.

Have water pump rentals ready.

Industrial water pumps help to mitigate flooding by taking the water from flooded areas and moving it back to the river, lake, or floodplain. By having pumps and other water pump rentals ready ahead of time, you'll be better prepared for major flooding when it happens
Where can I find industrial water pumps?
According to the U.S. Army Corps of Engineers, hundreds of millions of people in cities could experience flooding within a generation. In fact, floods have cost the U.S. $40 billion in damage since 2010 alone.
The good news is, MWI Pumps offers a wide variety of industrial axial and mixed flow pump rentals, including mobile pumps and 24/7 emergency services, so even when flooding is at its peak you can control the stormwaters with single pumps capable of moving over 100,000 gpm each. To learn more about large volume water  pumps for sale or rent, contact MWI today.