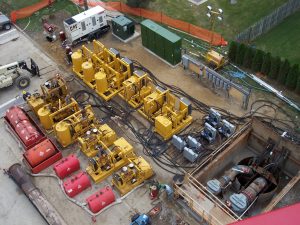 Bypass systems are typically employed on a temporary basis. They allow work to take place by pumping fluid (sewage, trash, water, etc.,) around the construction or work area without stopping the normal flow of the fluid.
In layman's terms, the bypass might be called a re-route of the pumpage, a pump-around, or a diversion of the fluid.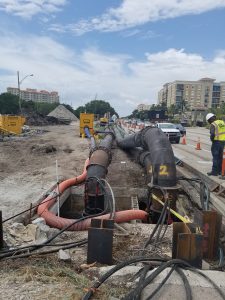 What are the different types of bypass systems?
There are three different types of bypass systems. These include open systems, closed systems, and combination systems.
An open system involves taking suction from sources open to the air and pumping to areas that are also open to the air such as pumping from one manhole to another manhole.
A closed system is the opposite of an open system and involves pumping from a closed source into another closed area. Both are usually under pressure, like pumping from a pressurized line to another pressurized line such as a force main.
Finally, a combination system involves taking suction from an open system and pumping into a closed system. This ensures that back pressure is experienced at the end of the system's discharge line.
What are the capabilities of a bypass system's pipe flow?
Bypass pumping systems need to be designed and assembled to handle maximum flow capacity. This minimizes customer service interruptions for water and gas applications. It also maintains the pipe flow for sewer applications.
For water applications, the bypass system needs to flow at a volume with a specified pressure. For gravity applications, the system needs to be able to pump the upstream flow and discharge it to a manhole downstream.
In any application, the water or sewer bypass systems need to have the pumping capacity to handle the flow with emergency backup trash pumps to make sure there is no interruption to existing services.
Where can I find bypass pump systems and other temporary water pumps?
The two most common types of water pumps used for temporary by-pass purposes include submersible pumps (electric and hydraulically driven)  and self priming centrifugal pumps. No matter what type of temporary by-pass water pumps you're looking for, MWI Pumps has what you need, along with piping, valves, manifolds, and experience  to get the job done.
MWI offers sewage pump rentals, line shaft pumps, axial flow pumps, mixed flow pumps, and more. To learn more about our pump rentals and water pump services including on-site maintenance, pump repair, 24/7 emergency services and more, please contact MWI Pumps today at 954-426-1500.